As Cricket Fever is going on, many people are now making way for hot matches rather than
doing work. Especially People are finding very difficult to have constant touch with latest updated score without getting away from office works. So, do you have the solution. So I tried to search for easy and convenient method to obtain a live cricket score on Desktop.
I found that we can have lot's of option for getting in touch with latest score. I found some of the Desktop Score card, Score readers (requires IE), and some Web services like
Indiatimes
which provide you latest cricket score on web pages.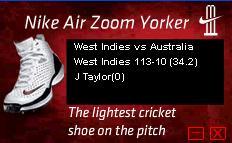 Desktop Score cards
Many web services like
Indiatimes,
Rediff.com, offers desktop cricket Score card. Out of many option I liked Rediff Score cards for it's nice look, low memory usage. So if you want to try out Rediff score card,
then get it from here.
Opera Cricket Score Widget
Opera users can Enjoy live cricket score using Opera Widget. Widget makes Opera little slow. But for enjoying WC everything is fair.
Cricket Score Board:This widget is created by cricinfo.com.
Live Cricket Score: By muttaraju_dhruv
Another One: By muttaraju_dhruv: I love this widget.

Firefox Plugins And IE Users
When Cricket fever is on rise, how can firefox lovers stay Behind.
Cricinfo.com
has launched
special firefox toolbar and IE add-on
, which gives us nice feeling. So stay Updated.
Update:
Cricinfo also provides nice firefox Cricketfox Plugin which uses circinfo.com server for updates. It's very light plugin. I loved it.
Download CricketFox Plug-in
Always have a perfect browser with you,
Download Firefox Today
for better Browser Experience
[
CricketFox story via Techno-tip
]
Technorati Tag:
cricket
score
card,
firefox
plugin,
opera
widget,
world
cup
2007,
live
score,
IE